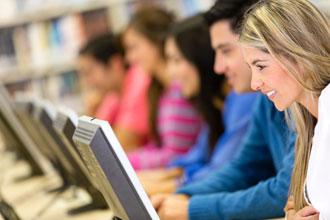 Leading logistics software developer partners with top universities and training institutions to offer students industry-ready training in supply chain technology.
A world-first technology training program developed by WiseTech Global is set to give vocational and college-level students a head start as they prepare to enter the logistics industry. The WiseEducation Partner program provides students with real-world operational skills in CargoWise One – one of the world's most advanced logistics management systems. With clients holding more than 100,000 licenses across 5,000 sites in 105 countries, WiseTech Global has set the standard for logistics industry software with this unique, cloud-based technology. Developed in response to requests from educational institutions worldwide, the WiseEducation program is the company's latest initiative in its long-standing support of technology education for a more productive, integrated, and compliant logistics industry. 
The WiseEducation program grants partnered institutions the opportunity to incorporate the CargoWise One system as an integral part of their courses in the form of free software licenses, free certification training for teaching staff, and free access to the same comprehensive training materials developed for global logistics providers. According to Vlad Bilanovsky, WiseTech Global's VP of partner management, "With open access to the complete product and e-learning content, teachers can use the software to emulate the 'live' supply chain in the classroom." It creates a virtual logistics environment wherein several specific supply chain processes simulate every operation from origin to destination: bookings, local pickup, packing, origin export documents processing, customs clearance, unpacking, final delivery, invoicing, and costing. Throughout the program, students gain practical working knowledge of the industry's documentation, reporting, and compliance requirements.
Among the first institutions to become a WiseEducation Partner is the University of Sydney's renowned Institute of Transport and Logistics Studies (ITLS), part of Australia's Key Centre of Excellence in Transport Research and Education. Through the program, ITLS Master of Logistics Management students will be able to strengthen their studies with hands-on operational training in an enterprise-class system used by leading logistics providers the world over. "We are very practice oriented, and we strive to deliver the knowledge and skills our students require for their leadership careers in the logistics sector," says Dr. Jyoti Bhattacharjya, course coordinator and lecturer in logistics and supply chain management at ITLS. "[We are] very excited by the WiseEducation partnership as it integrates industry practice with advanced software tools that provide tangible benefits to our students."
As Bilanovsky says, "WiseTech Global is not only committed to increasing the productivity of the logistics industry through our products, but through using our position to help educate and strengthen those within it." The WiseEducation Partner program provides a unique opportunity for graduates to get started and for those already working in the industry to make their mark. It offers experience with industry-leading software and teaches valuable technology skills that are becoming prerequisites in the competitive logistics employment market, thus preparing the next generation of logistics managers. The WiseEducation Partnership has proven invaluable to logistics training organizations. Plans to expand the program globally are already underway.
Media Contact: Lisa Tree, lisa.tree@wisetechglobal.com