Chapel Hill, North Carolina, March 5, 2018 – CargoSphere, the cloud-based rate management platform, today announces a direct data feed of ocean rates and tariffs for the global trade lanes from Hapag-Lloyd, the 5th largest container shipping line in the world, to its customers.
The ocean carrier is the first to offer its customers automatic access to all their contract rates using CargoSphere's electronic Smart Upload and Diagnostics Solution (eSUDS). This integration is a dramatic improvement over current labor-intensive industry practices of frequent email distribution of carrier-proprietary file attachments.
Henning Schleyerbach, Senior Director Sales & Service Processes of Hapag-Lloyd, said, "Eliminating the email distribution of spreadsheets and PDFs is an exciting moment for Hapag-Lloyd. We are committed to improving efficiency for our customers and ourselves, and this joint Hapag-Lloyd/CargoSphere integration achievement is an important contribution to the industry as it improves timeliness and accuracy. We plan to continue differentiating ourselves from our competitors with ongoing innovation."
Managing Director of CargoSphere, Neil Barni, said, "The CargoSphere team is thrilled to deliver a real-world, ocean carrier integrated, digital, rate-processing solution to the vast global container shipping industry. It is fast, fully automated and ready to transform the inefficiencies that impede ocean carriers. By accelerating the conversion of ocean freight rates to a fully standardized digital environment we are bringing to market a genuine and meaningful innovation that will move the industry forward."
The CargoSphere platform offers a 100% digital infrastructure, in which eSUDS establishes an automated data transfer of contract and public tariff rates between an ocean carrier, CargoSphere and the ocean carrier's customers. Digital contract management significantly increases accuracy and reduces processing times from several days to just a few hours.
Shipper, freight forwarder, and NVOCC customers can now have visibility to their own new or amended service-contract rates as supplied by Hapag-Lloyd to the CargoSphere platform. This provides a much more efficient and timely process to transform this traditionally complex, time consuming, error prone and costly aspect of ocean shipping.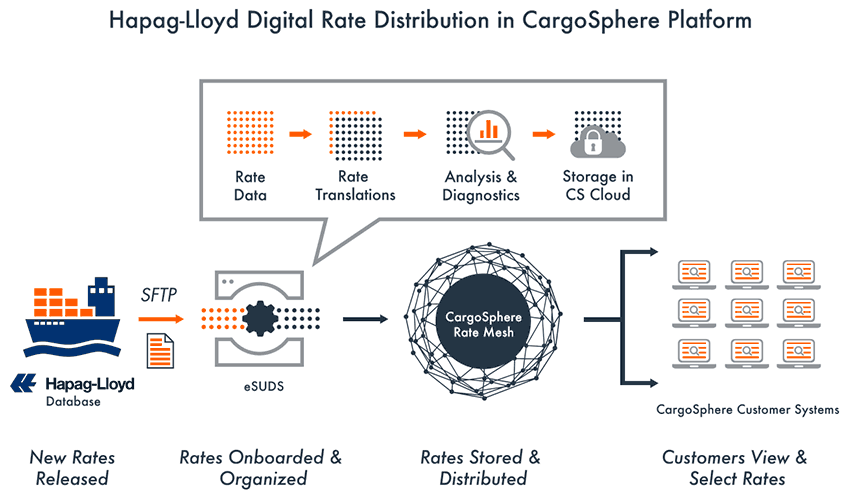 A Drewry Research Study* from 2017 determined that the annual labor cost of finding, receiving, processing, and analyzing ocean freight buy rates for the global freight forwarding community was approximately US$500 million.
CargoSphere's platform is designed to deliver significant efficiency and accuracy to international forwarders, ocean carriers and shippers. Users' global offices will have access to accurate, timely rates for better decision making, they will benefit from time savings for sales and operational staff, faster reconciliation of invoices, and increased accuracy of buy rates. The platform can also deliver sales-related benefits including faster quoting to customers, more frequent selection of optimal bookings, increased customer satisfaction and the ability to share accurate Hapag-Lloyd rates in real-time with agent partners.
About CargoSphere
Founded in 1999, CargoSphere is a leading global ocean freight rate management provider, helping customers worldwide boost productivity. Headquartered in North Carolina, USA, CargoSphere provides rate management solutions and Rate Mesh to over 100 customers including Kuehne + Nagel, Dachser, NNR Global Logistics, M+R Spedag, and Livingston International.
CargoSphere is the single rate platform that delivers frictionless freight rate distribution, networking and cloud-based rate management. CargoSphere's Rate Mesh network offers shipping partners immediate, confidential rate collaboration to simplify rate communication and provide a faster, more effective way to receive and distribute ocean freight rates. Ocean carriers and co-loaders push current, complete bottom-line rates to customer systems via the Rate Mesh to significantly reduce processing times for all. During these competitive times, CargoSphere offers business-enabling solutions that significantly improve productivity and business results.
CargoSphere is a part of the WiseTech Global group, a leading developer and provider of software solutions to the logistics execution industry globally.
About Hapag-Lloyd
With a fleet of 215 modern container ships and a total transport capacity of 1.6 million TEU, Hapag-Lloyd is one of the world's leading liner shipping companies. The Company has around 12,000 employees and over 420 offices in 126 countries. Hapag-Lloyd has a container capacity of 2.3 million TEU – including one of the largest and most modern fleets of reefer containers. A total of 125 liner services worldwide ensure fast and reliable connections between more than 600 ports on all the continents. Hapag-Lloyd is one of the leading operators in the Transatlantic, Middle East, Latin America and Intra-America trades.
*The Drewry Research Study 'Magnitude of Rate Management Burden on Forwarders' from 2017 was sponsored by CargoSphere.
CargoSphere (US) media contact
Carol Lerner, CKL Communications Tel: +1 973.635.6923 Email: ckl.communications@gmail.com
WiseTech Global media contact
Piers Shervington Tel: +61 2 8001 2200 Email: piers.shervington@wisetechglobal.com