Global logistics software group, WiseTech Global, acquires messaging solutions provider, Xware
Global logistics solutions group, WiseTech Global, today announced the acquisition of Xware, a leading messaging integration solutions provider in Sweden.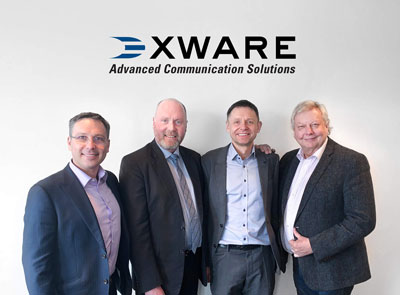 Xware's secure, interoperable messaging solution, xTrade, is designed to link organisations to their suppliers and partners, allowing them to safely share information across application to application, business to business, managed file transfers, business process management and IoT ̶ essential for real-time messaging, queued business flows and data integration. Xware products are also utilised in the integration of complex applications in specialised sectors such as defence. Xware customers include Swedish Armed Forces, CGI, Stockholm City Council, Axstores/Åhlens, Greencarrier Freight Services, and other organisations across sectors including logistics, IT, and healthcare.
WiseTech Global Founder and CEO, Richard White, said "We welcome the Xware team who are well regarded for their innovative and secure message switching technology, into the WiseTech family. We are acquiring Xware to enhance our messaging gateway and ensure we have greater control over the future development, quality and scalability of this key messaging technology. This is part of our digital straight-through processing strategy to accelerate adoption, reduce risks and costs and encourage wider digitisation within the logistics industry. This adjacency acquisition will also expand our innovation resources, deliver benefits to our customers and improve partner channel capacity for integrations to CargoWise platforms.
"Given our powerful global development capabilities and worldwide reach, we will together further expand the speed and ease with which organisations can interconnect their myriad information systems with our CargoWise One global logistics execution platform. Xware will also play a part in our CargoWise Nexus platform, currently in development, designed to enable our customers to rapidly, reliably and securely connect digitally with their own customers and trading partners.
"Our CargoWise engines, services and systems are designed with a global schema, utilising workflows, automations, trigger events, exception-led transactions, robotics and guided decision-making tools to deliver essential platforms and applications. Ultimately, they will create value through electronic integration, cost reduction, digitisation and deep automation capabilities, conserving resources, reducing errors, and connecting shippers, carriers, logistics providers and governments live across their supply chain."
Xware Managing Director, Jonas Ericsson, said, "Joining the WiseTech Global group brings Xware to a new phase with extensive new technical and commercial opportunities, such as access to the global market, and their very advanced and innovative development resources. While we remain committed to delivering the best messaging integration solutions to our customers across Sweden and their ongoing support, we will now be able to help more organisations who operate
outside the Nordics."
Xware will remain under the leadership of Jonas Ericsson, and Founder, Anders Lyckosköld.
Across ~130 countries, CargoWise One enables logistics service providers to execute highly complex transactions in areas such as freight forwarding, customs clearance, warehousing, shipping, tracking, land transport, e-commerce, and cross-border compliance and to manage their operations on one database across multiple users, functions, countries, languages and currencies.
This transaction follows WiseTech's other recent logistics solutions acquisitions in Argentina, Australasia, Belgium, Brazil, Canada, France, Germany, Ireland, Italy, the Netherlands, North America, Norway, Spain, Sweden, Taiwan, Turkey, the UK and Uruguay, and is in line with WiseTech Global's clearly stated strategy of accelerating long-term organic growth through targeted, valuable geographic foothold and technology adjacency acquisitions.
//ENDS
About WiseTech Global
WiseTech Global is a leading developer and provider of software solutions to the logistics execution industry globally. Our customers include 12,000 of the world's logistics companies across 130 countries, including 38 of the top 50 global third party logistics providers and all 25 of the 25 largest global freight forwarders worldwide[1]. Our flagship product, CargoWise One, forms an integral link in the global supply chain and executes over 54 billion data transactions annually. At WiseTech, we are relentless about innovation, adding more than 3,000 product enhancements to our global platform in the past five years while bringing meaningful continual improvement to the
world's supply chains. Our breakthrough software solutions are renowned for their powerful productivity, extensive functionality, comprehensive integration, deep compliance capabilities, and truly global reach.
Under development by WiseTech Global, CargoWise Nexus is a powerful web-based portal to connect the importer, exporter and freight user with their communities of suppliers, information sets and functional capabilities. CargoWise Nexus is a separate platform from CargoWise One. Nexus is a connector portal, which shares a large number of datasets, components and transactional capabilities with CargoWise One, designed to provide critical real-time visibility, connectivity and decision-making capabilities to the users of logistics services.
The WiseTech Global group includes CargoWise One, ABM Data Systems, ACO Informatica, BorderWise, Bysoft, Cargoguide, CargoIT, CargoSphere, CMS Transport Systems, Containerchain, CustomsMatters, DataFreight, EasyLog, Fenix, Forward, Intris, LSP Solutions, Microlistics, Multi Consult, Pierbridge, Prolink, SaaS Transportation, SmartFreight, Softcargo, Softship, Systema, Taric, Trinium Technologies, Ulukom, zsoft and znet Group.
For more information about WiseTech Global or CargoWise One, please visit wisetechglobal.com
About Xware AB
Founded in 1991, Xware is based in Sweden, headquartered in Stockholm with a team of 12 experienced industry, integration and technical professionals.
Xware provides a messaging integration hub, xTrade, which links customers to their suppliers and partners, allowing them to safely share data. Customers include Swedish Armed Forces, CGI, Stockholm City Council, Greencarrier Freight Services, Axstores/Åhlens, and other organisations across various sectors including logistics, IT, defence and healthcare.
Visit www.xware.se to find out more.