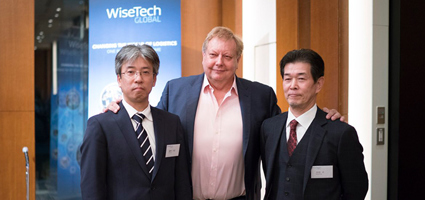 WiseTech Global has opened an office in Tokyo to expand its growing operations in Asia.
Attending the launch event at Conrad Hotel, Tokyo, were approximately 80 industry leaders and key customers, including Yusen Logistics, "K" Line Logistics, Hitachi Transport System, as well as dignitaries such as the Australian Senior Trade and Investment Commissioner Japan, Brett Cooper.
Over 7,000 of the world's logistics providers have been using WiseTech's leading global integrated platform, CargoWise One, and the opening of an office here reflects the company's strategy to work more closely with locally based customers and accelerate growth in what is a key global trade hub.
WiseTech CEO, Richard White, said, "Japan is the third largest country by GDP and a very large exporter of manufactured goods. Japanese logistics providers are looking for innovative global software to further increase their competitive ability and grow their local and global services, so there is an obvious interest in CargoWise One, which provides many benefits to organisations that want to enhance their global reach, supply chain efficiencies and productivity.
"The continued expansion of our operations through Asia and partnering more closely with leading Japanese customers, will, over time, substantially lift the network effect and increase productivity for all our customers. I would like to thank all of our current Japanese and global customers for their ongoing support and encouragement, as we continue to build the operating system for global logistics."
WiseTech's global integrated platform, CargoWise One, enables logistics service providers to execute highly complex transactions in areas such as freight forwarding, customs clearance, warehousing, shipping, land transport and cross-border compliance and to manage their operations on one database across multiple users, functions, countries, languages and currencies.