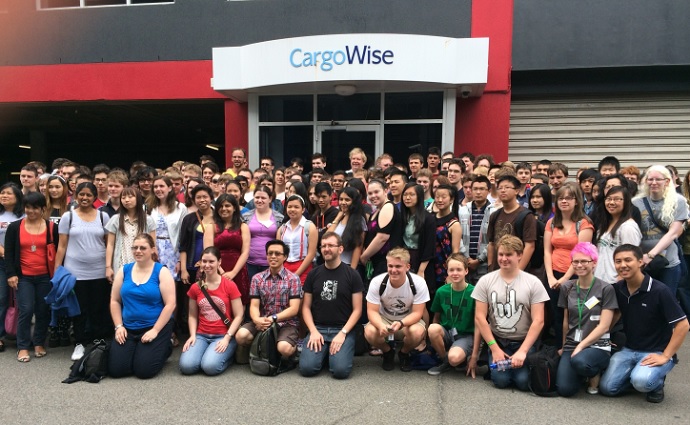 Australia's brightest high-school IT students invited to WiseTech Global's Sydney head officein support of the National Computer Science School summer program
As a passionate supporter of Australia's National Computer Science School (NCSS), WiseTech Global has once again shown its commitment to supporting the next generation of IT specialists. As part of the NCSS summer school program, this January the Sydney-based developer of the world-leading supply chain software, CargoWise, invited more than 100 students to its global head office for an audience with CEO Richard White.
The NCSS summer school is an intensive ten-day program that helps nurture and develop the computer programming and website development skills of some of the brightest IT students from across Australia. Run by the University of Sydney, the NCSS program helps shape the future of IT: providing students with quality educational opportunities and an insight into some of the region's leading developers.
A strong believer in fostering the next generation of IT professionals, WiseTech Global has been a committed sponsor of NCSS for many years. It recently worked closely with the school to help lift the participation of the country's IT community by creating a platinum sponsorship scheme, of which it became the inaugural platinum sponsor. The focus of this year's invitation to the WiseTech head office was to show the NCSS students how the future of technology lies in their hands. In an inspirational and encouraging presentation, Richard White explained how the game has changed for the 'physical' Silicon Valley and that revolutionary, world-changing new software can be created wherever the tools, skills and creativity are available.
"The world I grew up in was a walled garden of time zones and distance, but in recent years these walls have fallen," says White. "IT is now a truly global industry and a fantastic and rewarding career in software development is open to all. It's now clear that Australian IT will be a serious player on the world stage. Young and aspiring Australian IT professionals will be in a position to achieve breakthroughs that change the world. The NCSS helps high-school students understand the world of IT, and particularly software development, and gives them a wonderful on-ramp into one of the most stable and rewarding careers in the new digital economy."
Alongside its commitment to the NCSS program, WiseTech Global gives young people the opportunity to learn valuable programming skills through scholarship, intern and graduate programs. As a proud sponsor of the University of Technology Sydney's Bachelor of Information Technology scholarship program, each year WiseTech offers twelve students the opportunity to join the company for a six-month placement where they can learn real industry skills to complement their growing academic knowledge.
Media Contact: Lisa Tree, lisa.tree@wisetechglobal.com