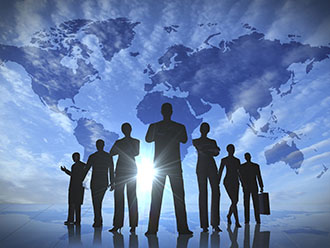 WiseTech Global and e-Novator join forces to provide the Eastern European supply chain with a solution to stay globally and regionally competitive.
A new business partnership is set to give the Central and Eastern European logistics industry localized access to one of the world's most advanced logistics management systems. WiseTech Global, the developer of CargoWise One, has announced that IT specialist e-Novator, has joined its global partner program to deliver a full suite of product services to new and existing customers of its enterprise-class, single-platform system.
e-Novator is an entrepreneurial, next-generation IT startup founded by Nikolai Bozhilov, executive chairman of supply chain management specialists, Unimasters Logistics. Bozhilov judges that the market is in desperate need of modernization for it to stay competitive in the global supply chain. Having implemented CargoWise One into Unimasters' operations, Bozhilov sees first-hand how the cloud-based platform can satisfy such a need.
"The key logistics challenges in our market range from underdeveloped or obsolete transport infrastructure to lack of proper e-platforms for logistics business execution and development," says Bozhilov. "Advanced e-marketplaces, networked information infrastructure, and cloud-based connectivity are essential for this quickly evolving industry. WiseTech Global is a visionary company with great experience in developing and integrating various IT logistics solutions into a single-platform system. CargoWise One is their premier, cloud-based platform for logistics business development which caters to the needs of both large and small logistics providers. This partnership is a great opportunity for e-Novator to provide the Eastern European supply chain with a system that offers global reach, improved IT integration, and improved productivity to help the industry increase its competitive advantage."
Based in Sofia, Bulgaria, e-Novator provides innovative and collaborative IT tools and solutions to the logistics and transportation industry, specializing in cloud, mobile, social, and big data projects for the SME sector. Moving to capitalize on CargoWise One's market potential, e-Novator has joined three of WiseTech Global's successful partner programs. As a WiseBusiness partner, the company will market the system to customers across the region, while its status as a WiseService and WiseTechnical partner will allow e-Novator to leverage its industry, product, and IT skills to offer CargoWise One customers implementation, training, technical support, and consultancy services.
Vlad Bilanovsky, WiseTech Global's vice president of partner management, remarks, "This is a great opportunity for e-Novator to add value to and grow its business by aligning itself with our industry-leading product. Their industry experience and knowledge of local markets will grant customers access to on-the-ground system expertise and a dedicated service provider, opening up opportunities for this growing economies and enabling local companies to better compete in the global supply chain."
Media Contact: Lisa Tree, lisa.tree@wisetechglobal.com